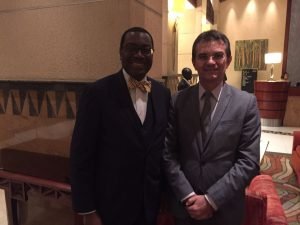 Brazil Africa Institute (IBraf) and the African Development Bank (AfDB) will held on the 14th of September, at 10 am, at the bank's headquarters in Abidjan, the launch of the Youth TechnicalTraining Program (YTTP). The President of AfDB, Akinwumi A. Adesina, the president of the Brazil Africa Institute , João Bosco Monte, invited authorities and some participants of the first stage of program will attend the ceremony.
"The headquarters of the AfDB is a very special address for us. President Adesina and I will present the program for an imperative agenda: training young Africans with good Brazilian practices for social transformation through knowledge," says João Bosco Monte, president of the Brazil Africa Institute. "When developing the program, we plan on making partnerships with several institutions, and having the AfDB as the first of these partnerships is a huge joy to us." This shows that they understand how this program is visionary"
About YTTP
Africa has a contingent of 420 million young people 15-35 years. Thus, youth participation is essential for achieving the goals of economic and sustainable development of the continent. Brazil, as an emerging global growth pole, has knowledge and experience that African countries need to learn in various areas of expertise.
The YTTP arises in this context, in order to build skills and knowledge transfer in various sectors, including agriculture, health, infrastructure, information technology and education. The first class of YTTP will be focused on agriculture, following the AfDB's strategy "Feeding Africa",  which seeks the transformation of agriculture in Africa. For this first step, we selected  30 youngs between 18 and 35 years from 16 countries, considering the equalization of gender and geographical distribution of participants.
The participants will receive training on the production chain of cassava in Cruz das Almas, Bahia, in the Embrapa Cassava & Fruits, partner of Brazil Africa Institute in this first edition of the program. The training will be held from October 9 to November 21 and aims to spread the knowledge of the key technologies of culture, allowing an increase in production and income of farmers.