The arrangements for setting "Nelson Mandela: The Centenary Exhibition" at the Itamaraty Palace in Brasilia, capital of Brazil, have began this Wednesday (22) with a technical visit to the venue. The curator of the exhibition and Director of the Apartheid Museum, Christopher Till, and the President of the Brazil Africa Institute, João Bosco Monte, were received by Secretary Hayle Gadelha, Advisor to the Undersecretary-General for International Cooperation, Trade Promotion and Cultural Affairs of Itamaraty. Representatives of the South African Embassy in Brazil and technicians from the Brazilian Ministry of Foreign Affairs also participated in the visit.
The curator was impressed by the venue. "It's a fantastic space to present Mandela to the people and let him talk to this beautiful work of Niemeyer, a great Brazilian architect. I think the exhibition will be wonderful" says Christopher Till.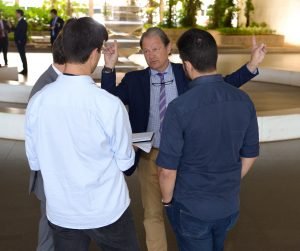 The exhibition will run at the Itamaraty Palace from September 12 to October 7. Brasilia is the second Brazilian city to receive the exhibit. The national tour, carried out by the Brazil Africa Institute, has began in Fortaleza. The season in there, from June 20 to August 12, received almost 20 thousand people, making the exhibition one of the most visited in the history of the Dragão do Mar Cultural Center.
In 2018, the year of Nelson Mandela's centenary, in addition to Brazil the exhibition has simultaneous assemblies in Canada, Ireland and England. In London, the opening was attended by the Dukes of Sussex, Prince Harry and Meghan Markle. "It was a magical moment in London with Harry and Meghan, we are looking forward to seeing the exhibition leaving Fortaleza and going to Brasilia, so that all this emotion continues through Brazil" says curator Christopher Till.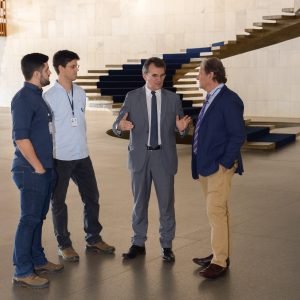 The exhibition features Mandela's life divided into six phases: "The Person", "The Comrade", "The Leader", "The Prisoner", "The Negotiator" and "The Man of State". Photos and videos build on the narrative from the start of his activism against the racist regime of the South African government until the election as the first black President of South Africa.
"Brazil still has a series of 'social apartheids' that need to be solved and reflect on the examples that Nelson Mandela left us, of union and struggle for justice, can help all Brazilians begin to act for a change in the future", says the President of the Brazil Africa Institute João Bosco Monte.