The Brazil Africa Institute (IBRAF) will hold two editions of the Youth Technical Training Program (YTTP) in 2020. In partnership with the National Food Security Council of Senegal (SECNSA, in French), the YTTP Senegal Edition will have one class in May and the other in October, each with 30 students.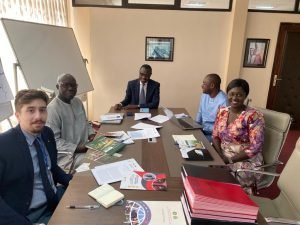 IBRAF and SECNSA signed a Memorandum of Understanding in January for the development of projects and closer ties. Last week, João Paulo Alves, Assistant to the President of the Institute, was in Dakar to arrange the final details of the project's execution with Jean Pierre Senghor, SECNSA Executive Secretary, Mame Fatou Diaite, Head of the Department of Resilience Strategies in Food Security , and Malick Ba, Coordinator of Regional Food Security Offices.
The 2020 editions of the YTTP will take place over three weeks, with the first class being held between May 11th and 30th. This year, participants will train on three central axes: Use of information and communication technologies in agriculture; Models of viable family farming; and Technical and financial management of agricultural companies. The themes are in line with the Nouveaux Terroirs Resilients program, executed by SECNSA. The program will be applied in partnership with the Federation of Rural Workers and Family Farmers of the State of Ceará (FETRAECE, in Portuguese).
With the new edition, dedicated exclusively to Senegal, YTTP consolidates itself as one of the main knowledge transfer programs between Brazil and the African continent. During the course, Senegalese will have the opportunity to learn about Brazilian agricultural practices and techniques and will be able to apply them to their local realities.
"Training young people is imperative to guarantee the development and success of agricultural practices on the African continent. YTTP, then, will bring these young people to Brazil to create cooperation bonds ", explains João Bosco Monte, President of IBRAF.