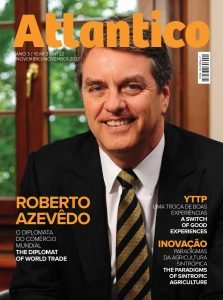 The twelfth edition of the ATLANTICO Magazine features an interview with Roberto Azevêdo. Director-General of the World Trade Organization (WTO) since September 1st, 2013, demonstrating approval of his style and the priorities he adopted, he was re-elected for a new four-year term, which began on September 1st, 2017. It is at this moment of evaluation and planning that Azevedo speaks to ATLANTICO. Among other things, he talks about Brazil's participation in international trade, the development of the African continent and the current panorama of global trade and the fight against protectionism.
Other themes and characters of the same political and historical dimension are scattered over the next few pages of the publication, such as the emerging and innovative strength of the Syntropical Agriculture, the launch of YTTP, a daring exchange program focused on young people and a tribute to Fernando Mourão, that left a legacy of love and respect for Africa that inspires generations today and will continue to be a reference for the future.
Idealized by the Brazil Africa Institute, ATLANTICO is a reference in Triangular Technical Cooperation, especially in Brazil-Africa relations. Bilingual (Portuguese / English) and with quarterly editions, the publication is distributed to our partners and is also available for online reading, on our website or on the Medium and Issuu platforms.
Read online:  https://ibraf.org/wp-content/uploads/2017/11/atlantico12.pdf